How to Choose the Right Architectural Railing Hardware?
How to Choose the Right Architectural Railing Hardware?
The first thing to know is that railings are not just a safety measure in a building, they also play an important role in enhancing the overall aesthetics. With different locations, such as stairs, accessible ramps, and various balcony decks, railings will have different materials and designs according to the needs of the location.
So how to choose good architectural railing hardware? Let's talk about it!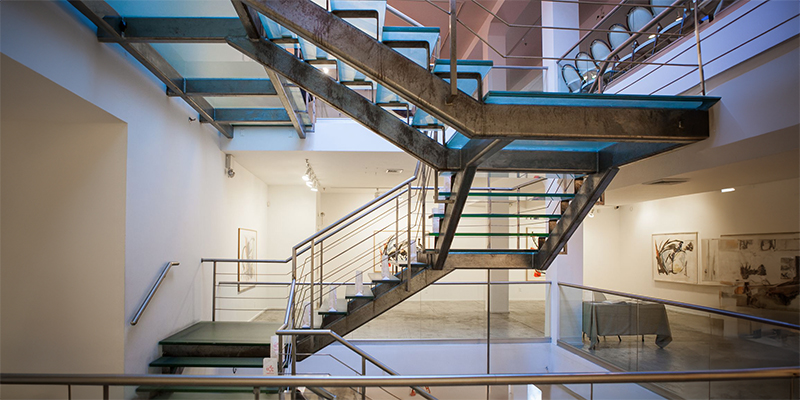 1. Purpose & Location of The Railing Hardware
Before we delve into the materials, components, and design of railings, it is important to determine what the railings will be used for and where they will be used. Indoor and outdoor spaces each have their appropriate materials and making the wrong choice can result in high maintenance costs or even the replacement of an entire railing system.

1. Stair Railings
Stair railings prevent people from falling off the other side of the stairs and are a must-have safety measure. The choice of materials will have different results indoor and outdoor.

Most of the time, outdoor stair railings are recommended to use metal materials to reduce maintenance costs. However, wooden balustrades are popular in general family homes because they are versatile and inexpensive.

2. Ramp Railings
In many public places, such as hospitals, schools, commercial buildings, and government agencies, wheelchair ramps are required and mandatory in most countries. Ramp railings not only prevent people from falling down the ramp but also help people with mobility problems maintain their balance while walking. However, wheelchair ramps are subject to the legal control of local authorities and are limited in length and slope.

3. Deck Railings
Decks are popular in American homes, and deck railings provide added safety and appearance-altering features. According to the needs of users, the deck railings are made of wood, composite materials, cables, and the rest are glass, cast iron and stainless steel are also the preferences of many consumers.

4. Balcony Railings
Also known as balustrades, balcony railings not only improve the security of the balcony but also affect the overall design of the building. Stainless steel, glass, and aluminum are three materials that are often on the pocket list, and they can all bring a modern and stylish look to your balcony.

If you are looking for a specific style, you can also choose materials such as wood or cast iron, but the downside is the high maintenance cost.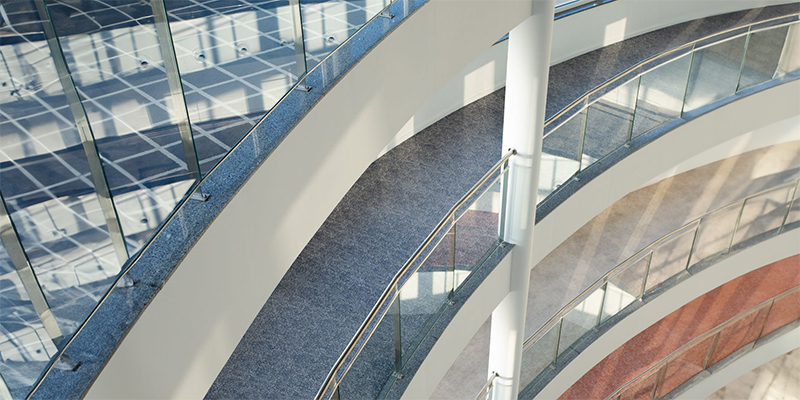 2. Materials of The Railing Hardware
Railings can often transform the entire atmosphere of a space, whether it is indoors or outdoors. After deciding on the purpose and place of use, the next step is to select the right material of The Railing Hardware.

It is important to understand the impact of each material on the overall railing structure. Of course, the look and design often depend on the material used as well.

1. Stainless Steel Railing
Stainless steel railings are a popular choice because of their strength and durability. Aesthetically speaking, stainless steel balustrades are also among architects' preferences, adding a modern and stylish feel to a building.

The common grades of stainless steel are 304 or 316, the difference between the two is the corrosion resistance strength, the latter is more suitable for harsh environments or industrial use, and the low maintenance costs required for stainless steel railings make it more versatile.

As a hardware solution manufacturer, we also produce the 2205 duplex stainless steel hardware for the sea coast environment. It has a better corrosion resistance than 316 stainless steel with these advantages in mind. It is easy to see why the most common railings are made of stainless steel, especially in public places that are more prone to wear and tear.

2. Glass Railing
Due to the material characteristics of glass railings, they can make the space look bigger. Glass railings also allow for more variation in lighting and create a wider view. Many people question the safety of glass railings, and mistakenly believe that they are fragile.

In fact, with the right design and installation, glass railings are no less protective than metal or wood railings. If you examine closely, you will find that stainless steel and glass are almost the preferred railing combination for outdoor venues.

3. Aluminum Railing
Aluminum railings are also very common outdoors. It has the advantages of being lightweight, easy to move and install, and excellent corrosion resistance. Compared with stainless steel, the strength of aluminum railing is lower, and dents are easy to appear, which will increase the overall maintenance cost.

4. Cast Iron Railing
If you want to create an elegant and strong railing with a unique style design, cast iron may be a good choice. However, cast iron railings will increase your design budget. Additionally, cast iron is very prone to rust and so requires regular maintenance.

5. Wood Railing
The wood railing would be a preferred choice if it is used in general residential interior spaces. Wood railings are customizable in terms of material, finish, and design. Compared to metal, wood railings are relatively inexpensive. But the downside is obvious: they need a lot of maintenance to prevent mold or insect damage.

3. Components of The Railing Hardware
Once you understand the importance of site and material to the railing. It's time to learn about the components of the railing system. Understanding how these similar-looking components perform their respective roles.

1. Handrail Bracket
Handrail brackets are used to attach the railing to the wall or glass. The length of the railing determines the number required of handrail brackets. Choosing the right design of the handrail bracket can add beauty to your railing.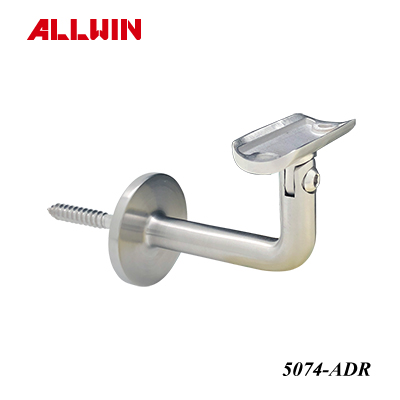 2. Handrail Support / Saddle Stem
A handrail support/saddle stem is a type of handrail support, which is often found together with a post system. The handrail support/saddle stem is usually made of 304/316 stainless steel. They are assembled at the top of the post system to support the architectural railing.

3. Handrail Connector Elbow
Handrail connectors are seldom used for straight or short-distance railings. But, when it involves angle change, handrail connectors are required to connect two tubes or pipes.

The common handrail connectors are two ways, three ways, or four ways. They are also available in round, square, rectangular or slotted shapes depending on the shape of the railing tube. Besides the above design, ALLWIN also provides adjustable handrail connectors. It is not only easy to change the angle but also easy to install.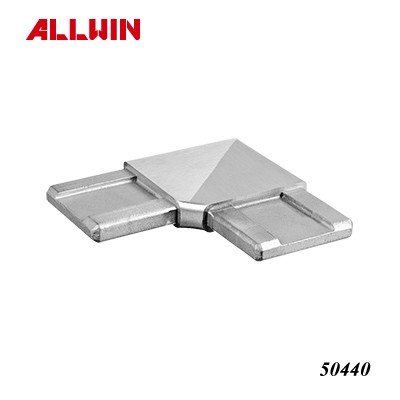 4. Handrail End Cap Flange Cover
Common architectural railings require the post system to be attached to the ground for support. The handrail end cap flange is placed at the bottom to fix the post system to the ground. Like the handrail connector, the handrail flange end caps are also available in round, square, rectangular, and grooved shapes.

5. Railing Tube
As the main body of a building railing, the shape of the railing tube varies according to the requirements, as does the size of the tube diameter. 304/316 stainless steel is the material of choice for architectural railings. with strong corrosion resistance and strength, stainless steel can significantly reduce maintenance costs.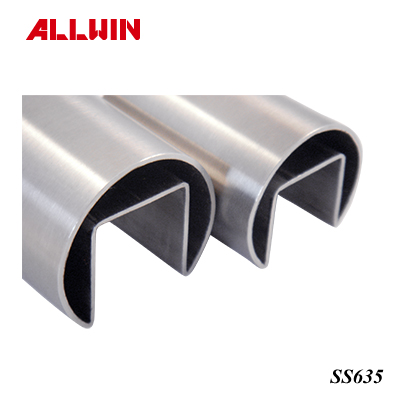 6. Post System
The premium post system is usually made of 304/316 stainless steel. It stands on the ground to support the weight of the entire railing tube. There are many types of post systems, such as glass railing post systems, barrier-free facility post systems, and protective railing post systems.

4. Best Supplier of The Railing Hardware
In addition to the above criteria, it is also important to select a good supplier. You can filter the finalists by various criteria. They must manufacture by ASTM standards, especially for construction railings that are subjected to harsh outdoor conditions. Since there is no single style of architectural railing, the flexibility of the supplier to solve problems with special angles or sizes is a must. As a hardware solution manufacturer, we also provide different color and finished for customer option. Stainless steel brushed, stainless steel polished, coating, PVD, matte black, white, gold, bronze.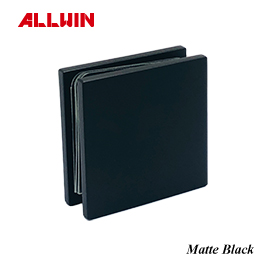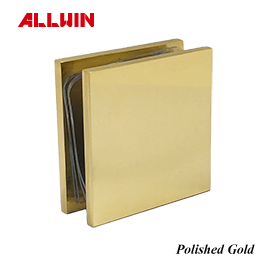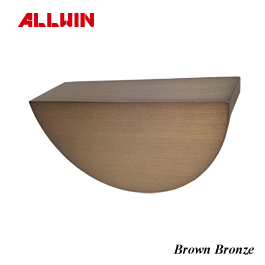 ALLWIN, a supplier with over 15 years of experience, and we still continue to improve our capabilities to meet the needs of our customers. If you think these are important and still can't find a supplier, please contact us. If you have any questions about architectural railings, please contact us!
Article Classification
Article Catalog